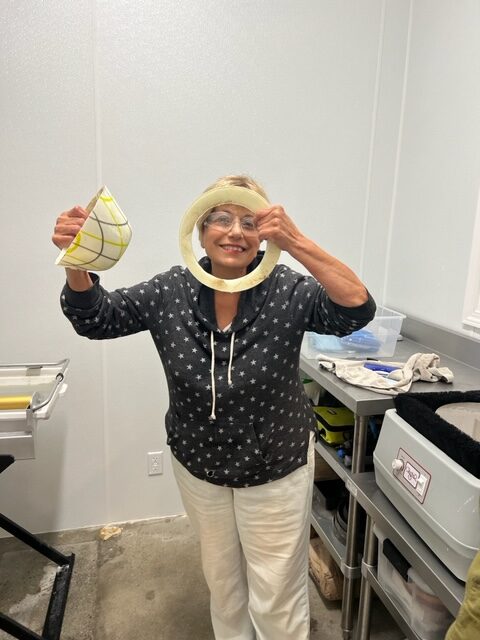 A drop-out vessel is created by slumping a piece of glass through an elevated mold with a hole in the center. The part of the glass that "drops" through the hole can stretch considerably, significantly informing the design of the finished piece. Coldworking to remove the rim further transforms the piece.
In this 2 days workshop, we will used stringers pattern between layers of sheet glass to create patterned bubbles design to drop out. Patterned bubble trap is a technique that is simple yet elegant and complex in appearance
Day 1/June 24  10:00am-1:00pm: Learn to cut a circle and design your 9″ round bubble trapped  blank to be fused.
Day 2/July 1st 10:00am-1:00pm : Learn to use the saw machine and cut the vessel rim. Learn how to cold work manually as well as cold work by machine.
About Joci Deaton- Artist and Instructor
Joci Deaton holds a BFA from the University of Cincinnati College of Design, Architecture, Art, and Planning. After obtaining her degree, Joci taught classes at multiple painting studios in Cincinnati for several years. She began working with glass after becoming an Instructor at the Bullseye Glass Resource Center Los Angeles in 2017. During her time instructing there, Joci had the opportunity to work with many incredible glass artists learning innovative techniques and technically supporting local artists as they experimented with this very unique medium. Joci continues to reside in Los Angeles and is always excited to continue to learn new ways to work with glass and to share that with her classes.