Welcome to
Fire Glass Studio
Fire Glass is recognized as the premier Glass Fusion art studio for kid's crafts, adult glass art education in the San Fernando Valley and Los Angeles area. In addition Fire Glass Studio offers professional support for glass artists of all levels. If you're looking for a family-friendly new visual art activity, kids crafts activity, or if you're a seasoned independent glass fusion artist looking for a glass art studio that has everything you need, Fire Glass Studio provides the perfect venue to allow you to unleash your artistic potential in a fun and inspiring glass art studio space.
Fire Glass Studio provides a full range of glass art classes for kids and adults at all skill levels from beginner to accomplished glass artist. Fire Glass Studio also offers a professional open lab program that provides you the space, tools and professional expertise to foster your inner artist to create beautiful works of fused glass art. Can't make it to Fire Glass Studio? No problem. We have a complete Glass Art Studio-To-Go that can bring our entire program to your group or classroom.
We welcome you to come in take a look around, ask a few questions, and view our classes and events. Come discover the artist in you at Fire Glass Studio.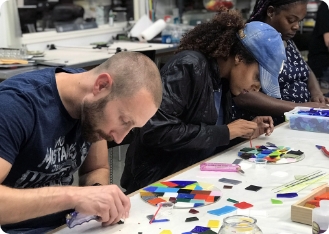 Discover the artist in you!
Enroll in one of our hands on glass art classes and see how easy it is to unlock the glass artist inside of you with the help of our experienced glass fusion teachers.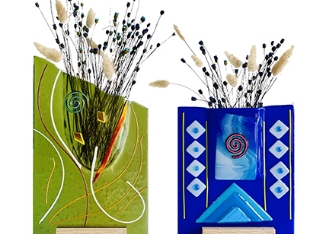 Check out our next event!
Fire Glass Studio offers many ways for you to participate in this exciting art form. Check out our calendar of events to see what is happening nearby.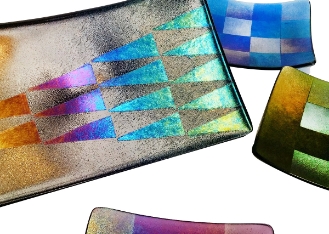 Explore our Fire Glass Art Gallery to see some of the incredible fused-glass art being made from our growing family of Fire Glass Studio Glass Artists.
"Fire Glass Studio is by far one of the most professional and organized facilities I have even worked in. It is pure pleasure to create and work there."
"Hands down Fireworks Glass Studio provides the most nurturing, warm, and highly creative environment for students to explore their creativity."

Director of Admissions for Kadima Day School

"Helping our residents to create their own Glass Art pieces each time they participate in class and have a finished product they can keep forever, or give to their families and friends is priceless."

Recreation Services Director – Garden Crest Rehabilitation Center

"Michal and her team give kids the freedom to be who they are and express their artistic minds. I strongly recommend this class to all ages."

Mother of Kid's Kraft Student Daniel Winner