In December of 2013 Fire Glass Studio joined with Garden Crest Crest Rehabilitation Center to provide an ongoing series of in-facility Glass Fusion Workshops for their permanent senior adult residents.  Garden Crest is located in the Silver Lake section of  Los Angeles, and has a magnificent view of the Griffith Park Observatory and the Hollywood Hill. The center provides rehabilitation services, recreation therapy and various social services. In addition they are home to more than 100 permanent senior residents for which they provide complete independent living as well as assisted living services.
As part of their growing program of providing their permanent residents quality standard of life services, Garden Crest is continuously looking to expand their ability to provide life-enhancement services in order to help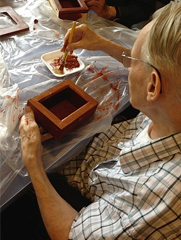 keep their residents active and involved in a thriving and caring community.
Said Limor Ness, Garden Crest's Director of Recreation Services, "Older adults are supported through the recreational and activity programs we offer. We encourage them to respond and interact with their environment and each other in order to help build self-esteem, personal value and a sense of community with their fellow residents. This is done through the presentation of a variety of activities which promotes complete sensory involvement such as sights, sounds, smells, tastes and tactile interaction with objects".
As part of this growth, Limor contacted Fire Glass Studio's owner Michal Hasson to see if she could provide a in-facility workshop geared to seniors that might be of benefit in Garden Crest's goal to help keep their residents active and involved. Michal immediately saw the opportunity to be of value and set about creating a specialized program to meet Garden Crest's need. From Day 1, the workshops have been a great success.
"Being able to create their own unique pieces of art each time they participate in Fire Glass Studio's classes has been very well received by our residents." said Ms. Ness, "Seeing our resident's face each time they are are given their completed work that they can keep as a permanent memory or give as a gift to their families and friends is priceless. They feel proud and capable when they receive their much anticipated art."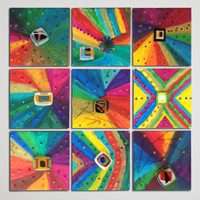 One project that made the residents feel especially proud is a huge collage of twelve paintings framed into one large wall art which decorates the lobby of the center. "I wanted to create a project that will glow the lobby with happy colors, and at the same time will incorporate everyone participation, creativity and imagination." said Michal Hasson about the piece. This distinctive wall art is a collage of twelve individual acrylic painting which required a few separate stages to accomplish including painting on canvases, using acrylic paint, cutting layers of glasses that was fused and glue onto the canvas and the gluing of colorful Swarovski stone to the paint. At every stage the residents participated in creating the final work which required them to practice fine motor skills, sensory, creativity and reminiscing.
Both Ms. Ness and Ms. Hasson are very proud of the results of the workshops and plan on continuing the program indefinitely.
To learn more about Garden Crest, visit their website at : gardencrestweb.com
https://fireglassstudio.com/wp-content/uploads/2013/12/garden-crest-glass-fusion-workshop-provided-by-fire-class-studio.jpg
257
715
Rachel Aladdin
https://fireglassstudio.com/wp-content/uploads/2013/04/fire-glass-studio-logo.jpg
Rachel Aladdin
2013-12-01 13:13:53
2014-03-26 07:03:10
Fire Glass Studio Facilitates Elder Care Glass Fusion Workshop